Welkom bij FrettenFeiten – Een site over de fret als huisdier!
Wil je meer weten over fretten als huisdier? Dan ben je hier op de goeie plek! Ik ben Elizabeth en zal je via deze site zoveel mogelijk informatie geven over de fret als huisdier. Zelf heb ik 16 jaar fretten gehad. Hierdoor heb ik over deze geweldige diertjes de nodige kennis opgebouwd die ik graag wil delen. Ik zal hier proberen uit te leggen wat voor soort dier het precies is. Ook leg ik uit tegen welke problemen en situaties je kan aanlopen met één of meerdere fretten in huis. Het is namelijk zeer belangrijk dat je je goed voorbereid (zoals met elk dier dat je aanschaft natuurlijk!!!) en dat je later niet op je beslissing zal terugkomen omdat het toch een ander diertje is dan je verwacht had….
Als beginnend frettenhouder zul je namelijk zeker in situaties terecht komen die heel grappig kunnen zijn. Soms kunnen situaties helaas ook gevaarlijk zijn. Fretten vragen namelijk om zeer grote oplettendheid van de eigenaar. Het zijn zeer nieuwsgierige diertjes die van alles uitvreten zonder ook maar een beetje na te denken over de gevolgen die een bepaalde actie kan hebben. En vergis je niet, fretten verrassen ook eigenaren die de dieren al jaren hebben!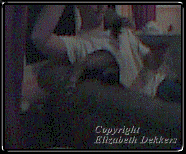 Hier staat alvast een eerste test of je geschikt bent voor fretten, het is een gifje (helaas slechte kwaliteit) waar mijn fretjes Cleo en Freggle opstaan. Dit filmpje geeft voor een heel groot gedeelte weer wat fretten voor dieren zijn. Als je bij het zien van het filmpje al gelijk grijze haren krijgt, stop maar met lezen en schaf geen fretten aan. Lig je daarentegen helemaal dubbel van het lachen? Dan zal ik zeker verder lezen om te kijken of het inderdaad een leuk diertje voor je is!
De eerste tip? Sluit je fretten op als je rustig wilt eten

Ik wens je veel plezier met het lezen over deze leuke diertjes! Hopelijk kun je alle informatie terugvinden die je nodig hebt. Zo niet, laat het me weten via het contactformulier of een reactie. Ik zal dan zo snel mogelijk reageren. Ook andere opmerkingen en vragen zijn uiteraard van harte welkom!