Waar kun je een fret kopen?
Eerst eens kennismaken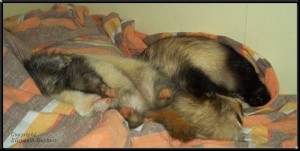 Het is sowieso aan te raden voordat je een fret gaat kopen om eerst te kijken bij mensen die fretten hebben. Je ziet dan hoe fretten zich gedragen in hun eigen omgeving. De meeste verenigingen en stichtingen hebben hiervoor kijkadressen. Dit zijn leden die mensen langs laten komen om eens kennis te maken met fretten. Ook organiseren de meeste verenigingen en stichtingen een aantal frettendagen per jaar. Hier kun je natuurlijk ook eens langsgaan om eens fretten van dichtbij te zien. Natuurlijk kun je op zo'n dag ook vragen stellen!
Ben je er helemaal van overtuigd dat een fret een leuk huisdier voor je is? Dan wordt het tijd om na te gaan denken waar je een fretje kunt kopen. En natuurlijk ook of je al een volwassen dier wilt of een pup.
Koop geen fret in een dierenwinkel
Een dierenwinkel is geen goede plek om een fret aan te schaffen. Vaak komen deze dieren van broodfokkers vandaan en hebben ze totaal geen opvoeding gehad. Ook kun je er nooit zeker van zijn dat de pups minimaal 8 weken oud waren toen ze weg gingen bij hun moeder. Het liefst wil je zelfs nog een pup die 12 weken bij zijn of haar moeder is gebleven. Ook weet je verder helemaal niets van de achtergrond.
Fretje uit de opvang halen
Het beste is om een fret te halen bij een opvang of een frettenliefhebber die een nestje heeft gefokt.
Van een opvangfret weet je vaak de achtergrond natuurlijk ook niet, maar de mensen die de fret in de opvang hebben weten wel wat voor soort karakter het diertje heeft. In de opvangen zitten ook vaak pups, omdat veel mensen ondoordacht zijn gaan fokken en de dieren niet kwijt kunnen. Soms worden ze dan zelfs losgelaten, als de pup geluk heeft wordt hij gevonden en komt in een opvang terecht. Anders loopt het slecht af met het diertje… Ook komen veel pups in een opvang terecht omdat mensen de dieren ondoordacht hebben gekocht en het toch tegen blijkt te vallen. De opvangfretten zijn bijna altijd geënt en gecastreerd (mits ze niet te jong zijn), dus dat is dan ook al een zorg minder. En natuurlijk hebben opvangfretjes ook recht een op een liefdevol huis!
Fretje van een particulier kopen
Wanneer je naar iemand gaat die een nestje heeft gefokt wees er dan zeker van dat de pups minimaal 8 weken zijn voor ze bij de moeder weggaan. De laatste weken zijn namelijk heel belangrijk voor de socialisatie van de pup. Van hun moeder leren ze heel veel. Het is zelfs beter om nog iets langer te wachten en de pup pas in huis te nemen vanaf 12 weken. Let er ook goed op hoe de andere dieren en zeker de moeder eruit ziet en hoe de fretten gehouden worden. Als de pups en moeder buiten zitten kun je er eigenlijk wel vanuit gaan dat de pups weinig in handen geweest zijn. Zitten de fretten in ruime kooien? Zijn de kooien schoon? Zijn de dieren vriendelijk? Zitten ze op hooi of zaagsel of netjes op lappen en handdoeken, etc. Kijk vooral goed of je het eens bent met de manier van houden van de dieren. Koop geen fret of pup bij mensen die niet goed voor hun dieren zorgen. Op deze manier worden mensen alleen maar aangemoedigd nog een nestje te fokken
Pup of volwassen fret?
Je moet je ook afvragen of je een volwassen fret wilt, of een pup. Voor een beginneling heeft een volwassen fret zeker een aantal voordelen. De dieren hebben minder opvoeding nodig en de castratie is al gebeurd. Ook weet je van te voren wat voor soort karakter het dier heeft. Een pup moet alles nog leren, hij moet leren hoe hard hij mag bijten en hij moet nog helemaal zindelijk gemaakt worden. De zindelijkheidstraining zul je in een nieuw huis ook moeten doen bij een volwassen fret, maar dat kost over het algemeen heel wat minder moeite dan bij een pup.
Aantal te houden fretjes
En natuurlijk met hoeveel fretten wil je beginnen? Ik geef zeker de voorkeur aan maximaal 2 fretten. Het is leuk voor een fret om met zijn maatje te kunnen spelen. Ze hebben echter wel hun eigen slaapplek nodig. Zie hiervoor de pagina Wat is een fret?