Fretten opvoeden
Een fret opvoeden heeft enige uitdagingen, maar is zeker heel goed mogelijk. Fretten zijn zeer intelligent en kunnen dus prima leren wat wel en wat niet de bedoeling is.
De fret moet leren zijn behoefte in de daarvoor bestemde bak te doen. Dit kun je doen door je fret heel goed in de gaten te houden. Zodra je ziet dat hij zijn behoefte ergens anders wil doen gelijk oppakken en op de bak zetten. Als hij zijn behoefte dan gedaan heeft kun je hem belonen met een snoepje of knuffel. Let wel goed op of hij daadwerkelijk zijn behoefte in de bak doet, want sommigen zijn erg goed in net alsof doen :roll:.  Wanneer je een pup hebt kun je deze het beste pas uit de kooi halen als hij zijn behoefte heeft gedaan wanneer hij wakker geworden is.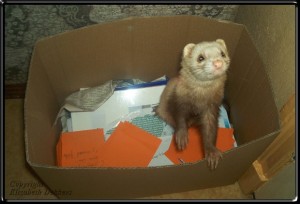 Zeker een pup moet leren hoe hard hij mag bijten, ze kunnen namelijk behoorlijk enthousiast zijn met het spelen. Wanneer een fret te hard bijt kun je hem in zijn nekvel pakken en foei of nee zeggen. Zorg er in ieder geval voor dat je steeds hetzelfde woord gebruikt zodat je in een later stadium alleen nog maar het woord hoeft te zeggen zodat het dier gelijk loslaat.
Je kan een fret ook leren dat hij op bepaalde plekken niet mag komen, bijvoorbeeld plantenbakken. Maar dan moet je wel erg veel geduld hebben. Ik vind het makkelijker om ervoor te zorgen dat de plekken waar ze niet bij mogen onbereikbaar te maken.
Fretten weten prima wat hun naam is, je kan ze ook leren te komen als je ze roept, maar verwacht geen wonderen. Een fret zal ongeveer even goed luisteren naar zijn naam als een kat. Wanneer je een snoepje pakt zie je in een keer hoe goed ze kunnen luisteren 😉
consequent zijn bij opvoeden van fretten!
Je moet zelf bepalen wat je wel en wat je niet belangrijk vind met de opvoeding. Regel 1 bij fretten opvoeden is in ieder geval dat je consequent moet zijn. Het is oneerlijk tegenover een dier om hem de ene keer te straffen en hem de andere keer te laten gaan. Straffen kun je overigens alleen op het moment zelf doen wanneer je ze op heterdaad betrapt. Het heeft absoluut geen zin om een dier te straffen als jij er later pas achter komt dat hij wat gedaan heeft. Dit valt voor mij zelfs onder dierenmishandeling!
Natuurlijk is er ook een andere manier om je fretten wat te leren, namelijk door positieve beloning. Wanneer ze iets goeds gedaan hebben een knuffel geven of snoepje. Of gewoon met je stem belonen. Een hele brave fret moet je natuurlijk niet altijd met een snoepje belonen, anders heb je heel snel een hele brave dikke fret. Het ligt ook een beetje aan het dier wat het beste werkt. Zowel Freggle als Vixen reageerden niet goed op afstraffing. Bij hun werkte het als jonge dieren veel beter om een beloning te geven voor het niet bijten.