Fretten speelgoed
Fretten zijn gek op spelen, ze kunnen ook heel wat speelgoed gebruiken, maar kijk uit! Je koopt de hele winkel leeg en hetgeen wat ze het leukste vinden is het plastic tasje waar het inzit 😆
Plastic tasjes en tunnels
Plastic tasjes zijn dus heel leuk om mee te spelen voor fretten, uiteraard moet je dat wel in de gaten houden! Lege dozen zijn ook erg leuk, vooral als je ze dichtdoet en er een gat in maakt waar ze doorheen kunnen. De meeste fretten zijn ook gek op buizen, deze zijn in veel uitvoeringen te krijgen. Je kan zelf ook een buis maken van bijvoorbeeld de pijpen van een spijkerbroek. De buizen waar tapijt omheen zit zijn ook perfect voor fretten. Fretten speeltunnels zijn uiteraard ook online te krijgen:

Handdoeken
Met handdoeken kunnen fretten ook heel leuk spelen, vooral als je stierengevechten nadoet. Kattenhengeltjes vinden ze vaak ook leuk, maar ze raken wel sneller hun interesse kwijt dan katten.
Sokken
Sokken zijn ook fantastisch voor fretten, op een of andere manier hebben die een geweldige aantrekkingskracht op ze. Laat dus geen sokken slingeren als je ze los hebt lopen, want je sokken ben je geheid kwijt!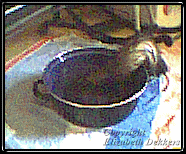 Waterbak
Een bak met water vinden de meeste fretten ook erg leuk, hierin kun je lekker graven en de hele boel zeiknat maken. Zandbakken zijn voor dit doel natuurlijk ook fantastisch! Op de een of andere manier denken eigenaren daar toch vaak iets anders over  😉
Je handen
Lekker stoeien met je handen is natuurlijk ook heel leuk, als je fretten goed opgevoed zijn, zullen ze dan waarschijnlijk wel in je handen bijten, maar niet hard.
De vloer
Op een gladde vloer is het ook heel leuk om je fretten over de vloer te laten glijden. Veel mensen zitten met open mond te kijken naar wat jij dan uithaalt met die arme zielige beestjes. Tot ze zien dat ze weer heel hard op je afrennen om nog een keer te mogen!
Balletjes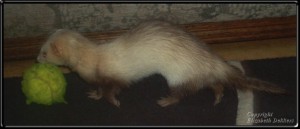 De meeste fretten zijn ook gek op balletjes, deze mogen niet van rubber zijn, maar bijvoorbeeld tennisballen, pingpong balletjes en stoffen balletjes met een belletje erin vinden ze heel leuk. Ramona liep hier de hele dag rond met de tennisballen en probeerde ze altijd onder de bank te verstoppen. Het is haar nooit gelukt, maar ze gaf niet op 🙂
Freggle was helemaal gek op een balletje dat speciaal voor fretten is waar je brokjes in kunt doen. Als hij er dan mee rond ging rennen kwamen er brokjes uit. Mijn andere fretten waren ietwat slimmer dan Freggle, want die keken niet naar de bal, maar pikten wel de brokjes onder zijn neus vandaan.
Veiligheid
Als je speeltjes gaat kopen moet je altijd goed opletten dat het stevig is en goed in elkaar zit. Loszittende delen altijd verwijderen voor je het aan je fretten geeft. Voor je het weet hebben ze een kraaloogje ofzo ingeslikt. Als mijn fretten zo'n muisje kregen, trok ik altijd eerst de ogen en oren eraf. Is de staart van rubber, haal die er ook eerst vanaf.
En de rest
Nu heb ik nog niet eens de helft verteld, maar eigenlijk is het gewoon zoveel mogelijk proberen en kijken wat jouw fretten leuk vinden. Het kan gebeuren dat je fret interesse in iets verliest wat hij eerst wel heel leuk vond. Dan moet je dat speeltje gewoon even wegleggen en een paar weken later weer tevoorschijn halen, vaak vinden ze het dan weer wel leuk. Afwisseling is in ieder geval heel belangrijk voor fretten!