Zelfbouw frettenkooien
In dit gedeelte staan foto's van frettenkooien die zelf gemaakt zijn (of aangepast). Wanneer je een kooi gaat maken moet je er rekening mee houden dat je materiaal gebruikt dat stevig en goed schoon te maken is. Wanneer je de kooi van gewoon hout maakt, kun dit afgelakt worden met niet giftige lak. Qua gaas kun je het beste voor nertsengaas kiezen. Kippengaas is namelijk niet sterk genoeg voor fretten. Verder moet je kijken naar het bedrag dat je maximaal wilt uitgeven. Je kunt het zo goedkoop of duur maken als je zelf wilt. Al is goedkoop wel een uitdaging… € 250,- ben je snel kwijt.
Heb je zelf ook een mooie zelfbouwkooi die je graag in dit overzicht ziet? Neem dan even contact met me op!
Veel van deze kooien stonden al voor 2005 op deze site. Daarom zijn er helaas weinig websites over waar naar doorverwezen kan worden.
Mijn eigen frettenkooi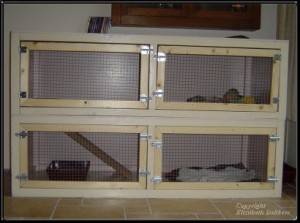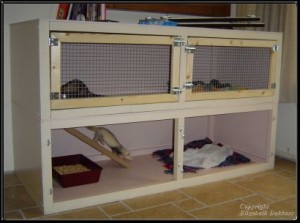 Dit was de laatste kooi die ik had voor mijn fretten. De kooi had een formaat van 175 x 80 x 100 cm. De verdiepingen waren verbonden met een trappetje. De deurtjes van de onderste verdieping konden er helemaal uitgehaald worden. Op deze manier konden mijn fretten niet in de kooi klimmen en op die manier weer via het schot bij de achterdeur ontsnappen. Om de kooi een beetje mobiel te houden bestond deze uit 2 losse delen. De boven- en onderkant konden makkelijk van elkaar gescheiden worden. Ze staan niet op de foto, maar later had ik ook een aantal hangmatten opgehangen in de kooi.
Mijn buitenkooi voor de fretten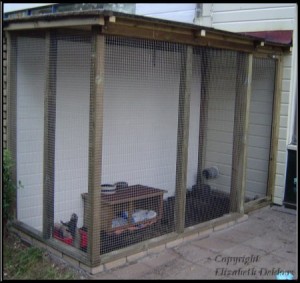 Het heeft even geduurd, maar mijn fretten hebben uiteindelijk ook een heerlijke buitenkooi gekregen. Deze kooi was 2,60 meter lang en 1,22 meter diep. Op de bodem lag een laag beton met daarop een laag aarde en zand. Ze konden dus heerlijk graven zonder dat ik me zorgen over ontsnappingstunnels hoefde te maken. De kooi was met een buis verbonden met de huiskamer. De buis kon ik uiteraard afsluiten.
In een later stadium hadden we een aantal planken in deze kooi gemaakt met daar bovenop een nachthok. Ik zal echter diep moeten graven om die foto's terug te vinden. Voorlopig moet je het dus met deze foto doen 😉
Mijn eerste zelfbouw frettenkooi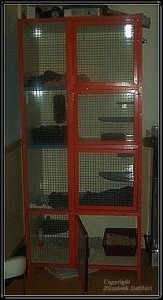 Dit is mijn eerste zelfbouwkooi. Dit was oorspronkelijk een linnenkast. De kooi was 90 x 60 x 200 cm en had 4 verdiepingen. De verdiepingen konden van elkaar afgesloten worden omdat Muppet niet overweg kon met de andere fretten.
Michelle haar frettenkooien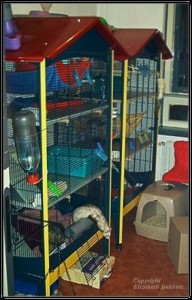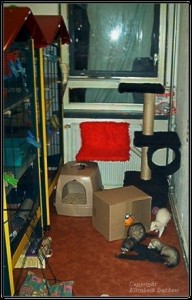 Dit zijn de kooien van Michelle en haar frettenkamer. De kooien zijn 2 dezelfde volières en zijn omgebouwd voor de fretten. Beide kooien zijn 80 x 60 x 140 cm groot. Beide kooien hebben 3 verdiepingen. De kooien zijn verbonden via een buis, waardoor de fretten heen en weer kunnen lopen. Er wonen 8 fretten in. De kamer waar de kooien instaan is 2 bij 3 meter. De kamer is volledig veilig gemaakt voor de fretten (en katten) zodat ze hier ook kunnen loslopen wanneer ze niet in de gaten gehouden kunnen worden. Ook al hebben de fretten een eigen kamer, het is zeker nodig voor ze om in de woonkamer te kunnen spelen en niet alleen opgesloten te zitten in hun kamer. Bij Michelle is het dus ook elke dag feest in de woonkamer. Eigenlijk kun je zo'n kamer als extra grote kooi zien waar ze ook gewoon uit moeten komen.
De frettenkooi van Yvonne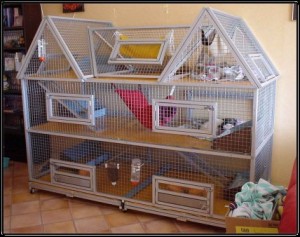 Dit is de kooi van Yvonne. Dit is een hele grote kooi van 200 x 90 x 150 cm. Er wonen 11 fretten in. De kooi is gemaakt van aluminium en heeft 3 verdiepingen van gaas. Op de verdiepingen ligt zeil, omdat het anders niet goed is voor de pootjes van de fretten. Om te zien is dit een hele mooie kooi, maar de kooi heeft helaas ook zijn nadeel. De eerste en tweede verdieping zijn niet makkelijk schoon te maken, omdat de deurtjes net te klein zijn en omdat de kooi zo diep is. Toch blijf ik jaloers op deze kooi, want voor de fretten is hij echt geweldig! Wat wel weer een groot voordeel van deze kooi is, de verdiepingen kunnen van elkaar afgesloten worden. Op deze manier kun je een bijvoorbeeld zieke fret apart houden zonder dat hij in een andere kooi moet. De kooi is niet goedkoop, het maken vanaf een bouwtekening heeft ongeveer € 1.250,- gekost. Mocht je zoiets willen en het niet zelf kunnen maken, dan moet je flink zoeken, want het bedrijf dat deze kooi heeft gemaakt is helaas failliet.
Ina haar frettenkooien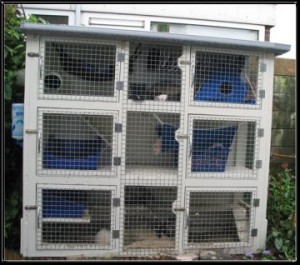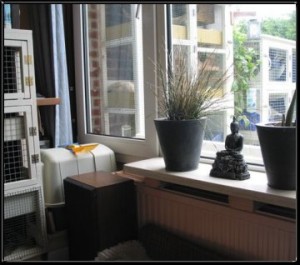 Dit zijn de kooien van Ina. Ina heeft twee buitenkooien en een binnenkooi. Alle kooien zijn met elkaar verbonden, de fretten kunnen dus zelf uitmaken of ze binnen of buiten zijn. Misschien is het niet helemaal goed te zien, maar onderaan de buitenkooi hebben de fretten hun eigen zandbak waar ze lekker kunnen graven. Er wonen 17 fretten in deze kooien.
Angélique en Elco hun frettenkooi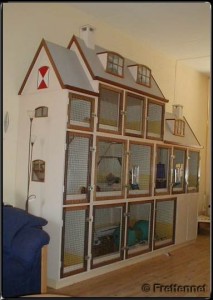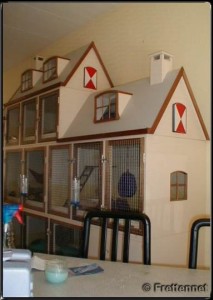 Dit is de kooi van Angélique en Elco. Het formaat van deze hele grote en mooie kooi is 265 x 62 x 240 cm. Helaas is er geen bouwtekening beschikbaar.
De frettenkooien van Wendy en Marc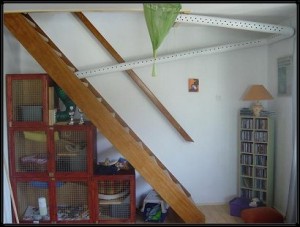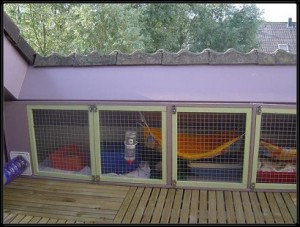 Dit zijn de kooien van Wendy en Marc. In deze kooien wonen 6 fretten. De binnenkooi is via een buis verbonden met het buitenhok op het balkon, zodat de fretjes zelf kunnen uitmaken of ze binnen of buiten zitten. Het is nogal een werk geweest om het buizenstelsel goed voor elkaar te krijgen, maar de aanhouder wint.
De frettenkooi van Cheryl en Jim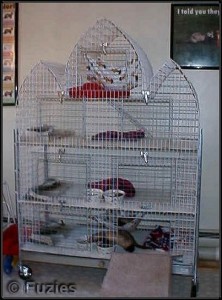 Dit is de kooi van Cheryl en Jim. Deze kooi wordt bewoond door 9 fretten. De kooi is volledig met de hand gemaakt en heeft $ 1.000,- Dollar gekost.
Ronald zijn frettenkooi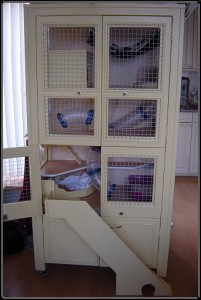 Deze coole kooi is van Ronald. Let ook op het trappetje! De kooi is 100 x 50 x 180 cm, er zitten 4 verdiepingen in waarvan 2 halve. Het onderste gedeelte is opbergruimte. Er wonen 4 fretten in.
De frettenkooien van Nicky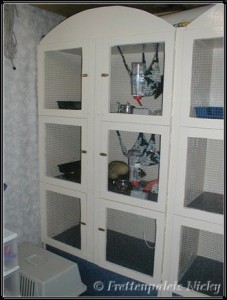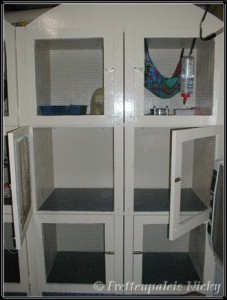 Dit zijn de kooien van Nicky; hier werden opvangfretten en logees in gehouden.
Corina en Marcel hun frettenkooi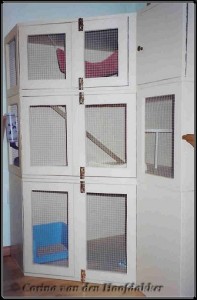 Dit is de kooi van Corina en Marcel. In de 'FrettenFlat' zoals de kooi is gedoopt wonen 4 fretten. De kooi is 1.46 meter hoog en circa 1 meter breed. Het diepe gedeelte is iets meer dan 1 meter diep, het smalle gedeelte is zo'n 35 cm diep.
De frettenkooi van Yukari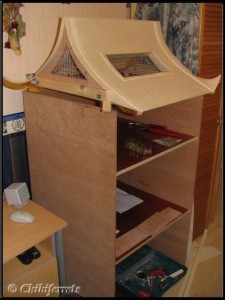 Dit is de in aanbouw zijnde kooi van Yukari. Er komen 3 fretjes in te wonen wanneer deze originele kooi klaar is. Meer over Yukari en haar fretjes kun je lezen op haar website Chibiferrets (als je het kunt lezen ;-).
De frettenkooi van Annemieke en Pascal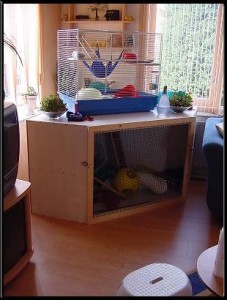 Dit is was kooi van van Annemieke en Pascal. De kooi was 90 x 90 x 110 cm en naar achteren in een diamantvorm. De bovenkooi was 40 x 80 x 50 cm. Er woonden met veel plezier 4 fretten in tot de kooi een verhuizing helaas niet overleefd heeft.
Vera's frettenkooi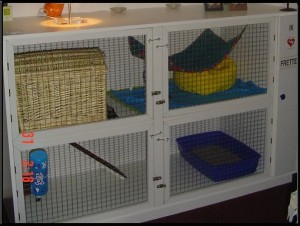 Dit is de kooi van Vera. De kooi is in totaal 170 x 60 x 100 cm en er wonen 3 fretjes. Ook is aan de zijkant een kastgedeelte gemaakt van 20 cm breed om spulletjes in op te bergen.