Meesterlijke ontsnappers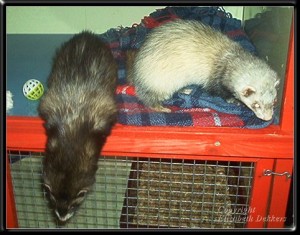 Fretten zijn meesters in ontsnappingstechnieken. Hoe goed je alles afgezet denkt te hebben, soms weten ze toch een weg te vinden om te ontsnappen. Wanneer je fretje ontsnapt is, zal hij door zijn nieuwsgierigheid allerhande geurtjes achtervolgen. Uiteindelijk is de kans groot dat hij de weg naar huis niet meer kan terugvinden met alle gevolgen van dien.
Ontsnapte fret aanmelden bij instanties
Wanneer je fretje ontsnapt is geef dit dan door aan zoveel mogelijk instanties, zeker aan Amivedi, dierenbescherming, asiels etc. Hang ook in alle supermarkten en dierenwinkels briefjes op dat je fretje vermist is. Het liefst met een foto. Veel mensen weten toch niet goed wat ze zich moeten voorstellen bij een fret.
Zoekactie op touw zetten
Zet zo snel mogelijk een zoekactie op touw, hoe sneller je erbij bent hoe groter de kans is dat je fretje nog in de buurt is. Roep zijn naam en rammel met brokjes. Sommige fretten reageren heel heftig op piepballetjes, dus deze kun je ook gebruiken.
Zet buiten in de tuin een kooi neer met lappen die de geur van de fret hebben. Ook eventueel een vieze poepbak voor extra geurinformatie. Het is te hopen dat je fretje de geur zal herkennen en hierop af zal komen.
Laten chippen
Het is altijd raadzaam om je fretten te laten chippen. Op deze manier heeft je fretje een grotere kans met jou verenigd te worden wanneer hij is gevonden. Wanneer iemand dan namelijk je fretje vindt en hiermee naar een asiel of dierenarts gaat zullen deze kijken of het dier gechipt is. Is dit zo, dan kunnen zij via de chipcode je telefoonnummer achterhalen en je gelijk bellen dat je fretje is gevonden. Meer info hierover kun je vinden op Stichting Nederlandse Databank Gezelschapsdieren.
Voorkomen is altijd beter
Voorkomen is natuurlijk altijd beter dan genezen. Zorg er dus voor dat je fretten in een goede stevige kooi zitten waar ze niet uit kunnen ontsnappen. Zorg er ook voor dat alle ramen en deuren op slot zitten wanneer je ze los laat. En zorg er natuurlijk voor dat alle fretten opgesloten zijn wanneer je zelf weggaat.
Ook kan het goed zijn regelmatig met je fretje naar buiten te gaan en hem of haar door de deur naar binnen te laten gaan. Op deze manier is de kans wat groter dat ze zelf de weg naar huis weten te vinden. Toen Muppet een keer ontsnapt was stond hij zelf tegen de voordeur aan te krabben dat hij naar binnen wilde!