Inenten / vaccineren van fretten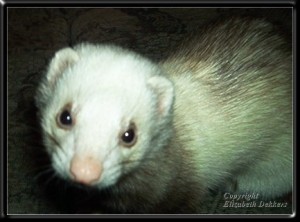 Hondenziekte
Fretten dienen net zoals andere huisdieren gevaccineerd te worden. Voor fretten is het belangrijk om gevaccineerd te worden tegen Hondenziekte (Parvo). De fret is zelfs gevoeliger voor Hondenziekte dan een hond.
Als pup zijnde dient de fret op 9 weken gevaccineerd te worden daarna weer op een leeftijd van 14 weken. Daarna dient de vaccinatie jaarlijks herhaalt te worden.
Het is heel belangrijk dat je er zelf op let dat je dierenarts de juiste entingsstof gebruikt, er zijn namelijk veel dierenartsen die nog met de verkeerde middelen enten. De merken Vanguard en Duramune mag niet voor fretten gebruikt worden. Hiervan kunnen fretten namelijk alsnog hondenziekte krijgen, als dit het geval is zullen ze onherroepelijk sterven. Het zal niet bij veel fretten gebeuren, maar het is een risico dat gemakkelijk te ontwijken is.
De entstoffen die je wel mag gebruiken voor je fret zijn:
Novibac Puppy DP (deze enting heeft de grootste voorkeur)
Novibac DA2PI
Eurican DA2P
Hondsdolheid
Tegen hondsdolheid (Rabiës) hoef je in Nederland niet te laten enten. Wanneer je met je fretje naar het buitenland gaat moet hij waarschijnlijk hier wel tegen gevaccineerd worden. Vraag dit na bij je dierenarts. Doe deze navraag op tijd, want vaak is er ook een bepaalde wachttijd (bijvoorbeeld 30 dagen) voordat je dier naar het buitenland mag.
Het is overigens mogelijk dat je fretje allergisch reageert op de enting tegen Hondsdolheid. Daarom is het belangrijk na de enting nog even 15-30 minuten in de buurt van de dierenarts te blijven. Mocht het noodzakelijk zijn, kan er dan op tijd een injectie tegen de allergische reactie gegeven worden. Overleg hierover eerst even met je dierenarts of hij of zij hiervan op de hoogte is!
Nog een aanvulling wanneer je naar het buitenland gaat, je fretje dient dan ook gechipt te zijn.
Ziekte van Weil
Uit onderzoek is gebleken dat fretten vrijwel ongevoelig zijn voor de ziekte van Weil. Hiervoor hoeft je fretje dus niet gevaccineerd te worden.